Categories
Categories
BRANDS
BRANDS
Fast & Easy
One-Page Checkout!

6 Easy Ways to Pay
Credit Cards
PayPal
PayPal Credit
AmazonPay
GPay by Google
ApplePay

Mindy Sez!
Mindy M. - National Customer Service Manager

Supreme Audio is feeling mischievous!
Yup! Im lookin' for some interaction!
How many headset mics do you see?
Please email your answer!

This is a common site in our service department... how much money do you think this pile is worth?

Taking your time when packing equipment for service could be the difference between a warranty repair and a non-warranty repair. Damaged equipment, due to insufficient packing, is not covered by the shipping company, nor is it considered a warranty repair. The bottom line? Take your time.... and save money!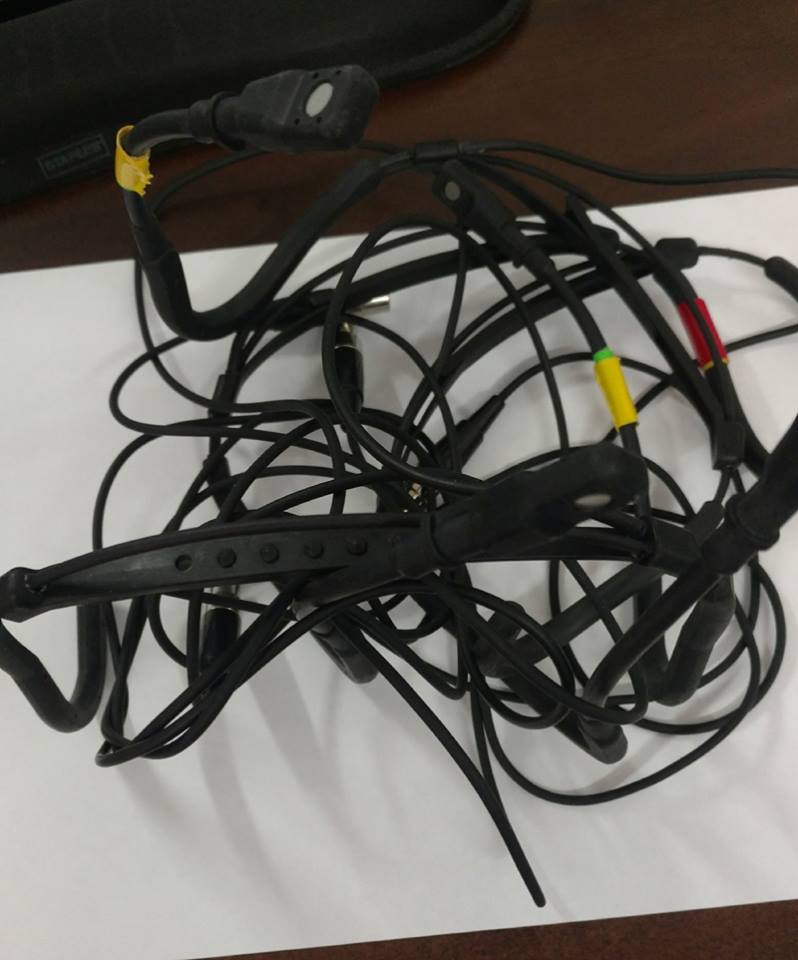 Preferred Vendor to
Les Mills Virtual™
Wexer Virtual™
UFC Gym™
Crunch™
Gold's Gym™
Powerhouse Gym™
World Gym™
Selecting Your Fitness Microphone
Selecting Your Fitness Microphone
Tips for Selecting the Right Fitness Headset Microphone
In workout sessions such as Aerobics, Zumba, Group Training, or Yoga etc, the Fitness Trainer keeps guiding & motivating the class through their fitness headset microphone. Through constant speech & demonstration, the trainer keeps their Clients at the edge of their heartbeats. The clarity & loudness of voice is of paramount importance to success as a Fitness Trainer. With the proper headset mic, the trainer can communicate with the class members in the best and clearest way.
Once a fitness class commences, it is impossible to stop because of a technical issue. That's why choosing a reliable fitness headset microphone comes first for any fitness Trainer. You cannot just go with any fitness microphone because exercises such as aerobics are strenuous, and the aerobics microphone headset used here will go through a lot of sweat & movement.
The microphone capsule must be of very high quality to produce clear sound. Apart from that, here are a few other things to check while selecting the right fitness microphone headset.
Steadiness
Any workout session essentially involves bouncing, jumping & rapid movement in a group. So make sure your group exercise microphone remains steady on your heads and does not change positions with movement.
Comfort
A session could go on for hours at a stretch. So the mic has to be very comfortable to wear and does not cause pain or irritation over time. While buying, you can simulate wearing the mic and have a feel whether or not it feels natural on your face.
Sweat Resistance
With high levels of activity and prolonged exposure to sweat & moisture, corrosion sets inside the mic. So choose a moisture resistant fitness headset in such cases. The frame, capsule, and connectors are specifically designed to withstand sweat in a sweat proof headset. The warranty card specifically mentions if is a sweat proof headset or not, so make sure to check it before purchasing.
Easy to Use
As a fitness instructor, you must focus on what you do best. The microphone you use has to be easy to assemble & disassemble, so it does not hinder your time or abilities while you are performing.
Wired or Wireless
Sweat proof wireless microphones are easier to use when it comes to fitness training; however, some trainers prefer the wired, lavalier microphones. Go with the one that best suits your needs.
Brands
There are branded Microphones such as Supreme Audio, Samson, Shure, Audio-Technica or Aeromic which are very popular as fitness microphones. There are duplicate copies of these brands also making the rounds. If you have experienced a particular brand to be superior to the others in its quality & service, you may go with that.
Appearance
The Fitness Industry is all about looks...why should the microphones be any different! There are a wide variety of stylish headset microphones available in the market. Go with one which speaks to you and is able to make you visually more appealing throughout your sessions.
Foam Windscreens
Microphone Windscreens are the foam covers on your mic that protect them from moisture, dust & debris. They also improve the sound quality of your microphone by eliminating the "pops" at high volume and breathing sounds caused by exertion. Always use the proper size foam windscreen. Our SupremeFit™ SMALL and MEDIUM foam windscreens come in 12 wonderful colors...to add further style, visual appeal to the mic.
Cost
Microphone prices vary a lot based on brand, quality, technical specs & other aspects mentioned above. It is suggested to focus on your requirements and go with one that fits your particular need. Select the one that meets your need for usability, quality & brand; and buy the one which offers the best price-value combination.
With the above tips, you can select the right fitness headset microphone that best serves your needs.
Supreme Audio offers the largest selection of professional wireless headset microphones suitable for fitness, group ex, and aerobics applications and are happy to consult with your selection of your headset microphone.
Click here for our complete Wireless Headset Microphone Buying Guide.
The Supreme Team