MYE AppAudio 1 to 32-Channel TV Audio Broadcast System
SKU:

APPAUDIO

UPC:

MYE AppAudio Single Channel or 4

MPN:

APPAUDIO

Availability:

1 to 32 Audio Channel Models Available. Call for details.

Shipping:

Free Shipping
Frequently bought together:
Description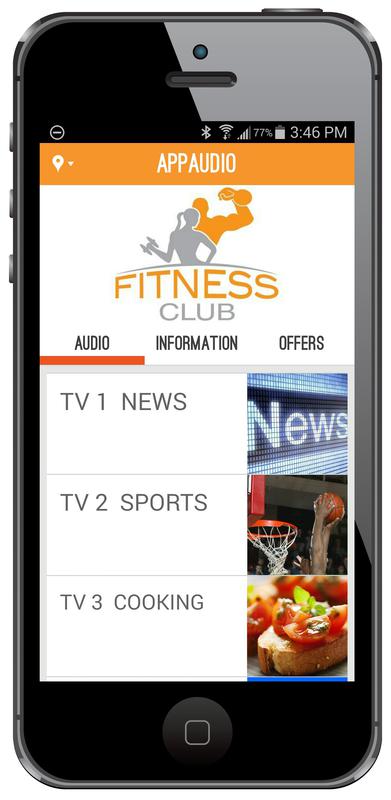 AppAudio 4 to 32-Channel Audio Broadcast System by MYE. Club TV Audio to Your Gym Member's Apple and Android Smartphones as They Exercise!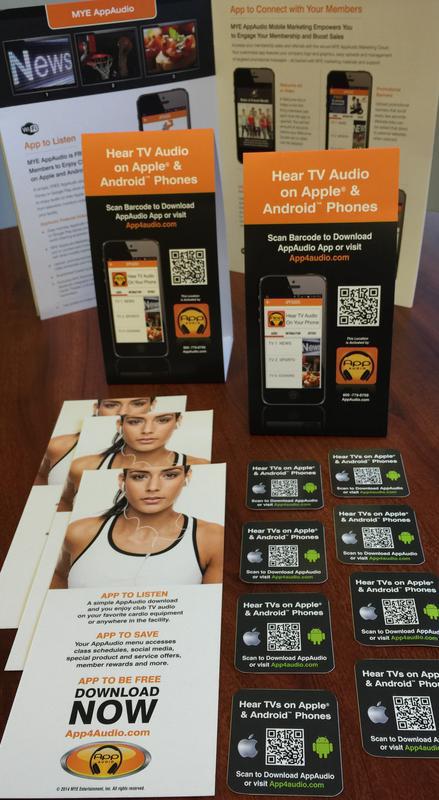 Promotional materials shipped with each system to educate and get members excited about downloading the AppAudio listening app!
MYE AppAudio 1 to 32-Channel TV Audio Broadcast System.
AppAudio™ is FREE for Your Members to Enjoy Club TV Audio on Apple and Android Smartphones as They Exercise!
With AppAudio TV audio streaming and Wi-Fi, your patrons enjoy great sound, turning their smartphone into an Assistive Listening Device (ALD) to listen to television broadcasts throughout the gym. Use conventional Wi-Fi to distribute sound to the patron's Apple or Android devices for a fraction of old-style system costs.
The AppAudio system allows you to stream audio from any audio source, including TV monitors, over Wi-Fi to patron's smartphones and tablets. Ideal for any venue with multiple, competing broadcast sources and people who want to hear clear audio from one or more speakers, TV monitors or digital signs.
AppAudio™ Mobile Marketing Empowers You to Engage Your Membership and Boost Sales.
Features:

Simple

Plug & Play

Mission Critical Reliability

NO Monthly Fees with Standard Systems

Single Channel or 4 to 32 Audio Channel Models Available - In 4-Channel Increments

FREE Mobile App for Apple or Android Smartphones - Download from the App Store or Google Play!

Full Internet Access for your Clients (Optional hardware for 125 or 225 Users)

Listen to TV's Anywhere in your Club using a Smartphone

Seamless Integration with Your Current MYE, Cardio Theater or other TV Audio Transmitters.

FREE Lifetime Apple iOS, Android and System Software Updates
Brand Your App
Custom Welcome Video or Image

Custom Slider Promotional Banners

Ads, Coupons and Announcements
Increase your membership sales and referrals with the secure MYE AppAudio™ Marketing Cloud. Your customized app features your company logo and graphics, easy uploads and management of targeted promotional messages – all backed with MYE marketing materials and support.
The professional quality MYE AppAudio™ System streams low-latency audio over Wi-Fi from TVs and other audio sources to be heard on Apple or Android devices via a listening app available on iTunes or Google Play stores. The AppAudio system is available in 4 channel increments with additional channels added time and ships ready to connect in a single space industrial grade metal enclosure. The AppAudio systems is highly flexible and scalable to meet the requirements of any size facility.
Easily integrate your existing MYE, Cardio Theater or other TV transmitters to AppAudio with the optional MYE TV Audio Grabber. Receives audio from your current TV Audio Transmitters to be heard on smartphones. Provides TV Audio to all of your members with or without a smartphone. Simplified installation by eliminating the need to wire TV audio cables directly to AppAudio Wi-Fi system.
AppAudio™ is fully-integrated into Gold's Gym, Netpulse & Planet Fitness Club mobile apps.
2 Year Limited Warranty by MYE
View All
Close
Warranty Information
2 Year Limited Warranty by MYE. 3rd year extension optional.
View All
Close