Categories
Categories
BRANDS
BRANDS
Fast & Easy
One-Page Checkout!

6 Easy Ways to Pay
Credit Cards
PayPal
PayPal Credit
AmazonPay
GPay by Google
ApplePay

Mindy Sez!
Mindy M. - National Customer Service Manager

Supreme Audio is feeling mischievous!
Yup! Im lookin' for some interaction!
How many headset mics do you see?
Please email your answer!

This is a common site in our service department... how much money do you think this pile is worth?

Taking your time when packing equipment for service could be the difference between a warranty repair and a non-warranty repair. Damaged equipment, due to insufficient packing, is not covered by the shipping company, nor is it considered a warranty repair. The bottom line? Take your time.... and save money!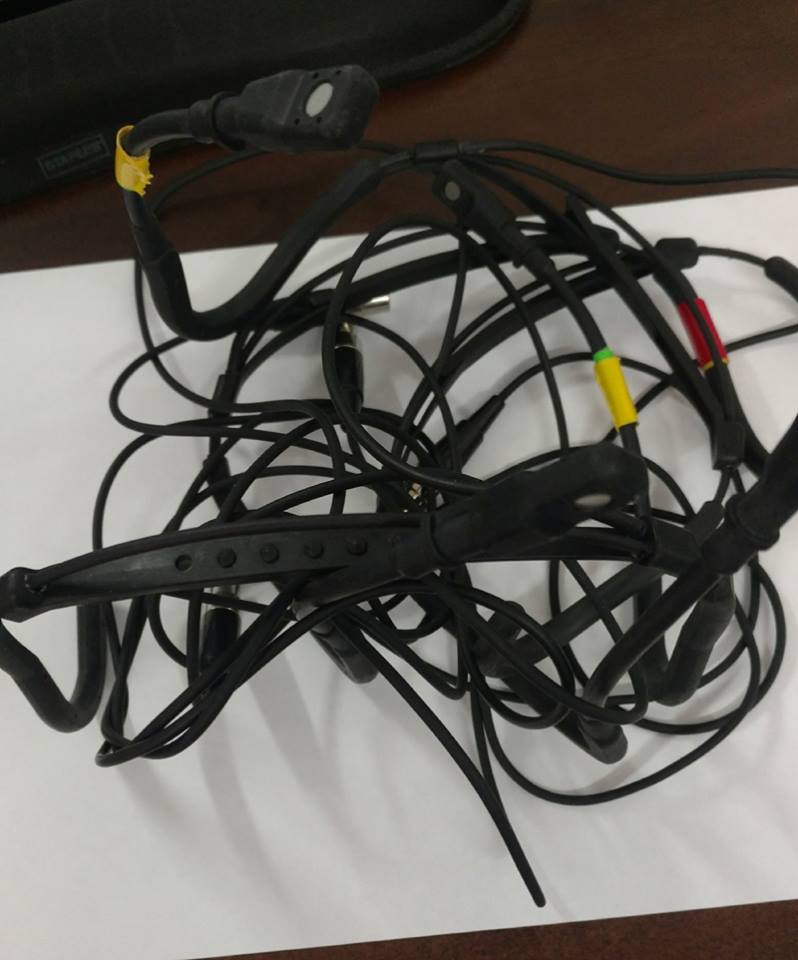 Preferred Vendor to
Les Mills Virtual™
Wexer Virtual™
UFC Gym™
Crunch™
Gold's Gym™
Powerhouse Gym™
World Gym™
Samson Stage XPD1 USB 2.4GHz Digital Wireless Headset System
Samson Stage XPD1 USB 2.4GHz Digital Wireless Headset System
Samson Stage XPD1 USB 2.4GHz Digital Wireless Headset System
List Price:
$149.99
Our Price:

$99.99
(You save

$50.00

)
Product Description
Samson Stage XPD1 USB 2.4GHz Digital Wireless Headset System
Perfect for use with the Samson Expedition XP106 Portable PA System!
Wireless Expedition
In addition to digital communication applications, the Stage XPD1 Headset system can be used with Samson Expedition Series Portable PAs that feature USB Wireless ports (XP106, XP800, XP1000) to create a completely mobile wireless presentation/performance solution. Up to two Stage XPD1 systems can be used simultaneously in the same location to accommodate multiple performers. Note: Headset is sweat-resistant.
Samson's Stage XPD1 Headset USB Digital Wireless System delivers high definition audio for creating videos on laptops, tablets or smartphones. Featuring a USB-powered receiver and beltpack transmitter with a micro headset microphone, the Stage XPD1 Headset offers convenient 1-touch setup and 100' of reliable wireless operation that's ideal for broadcasting, live streaming, presentations and more.
No Hassel
Unlike traditional wireless systems that require complex setup processes such as matching component frequencies, the Stage XPD1 Headset system automatically pairs the receiver to the transmitter. Direct connection to a computer's USB port enables instant transmission of audio to your DAW, VoIP and speech-to-text without the need for extra cables or external audio interfaces.
Mobile Creation
The Stage XPD1 Headset system is compatible with iPads and iPhones using Apple's Lightning to USB Camera Adapter or Camera Connection Kit (30-pin). This makes the system perfect for upgrading your audio for Vine, Periscope, Instagram and other smartphone applications. Additionally, the Stage XPD1 Headset system is ideal for capturing lectures and "how to" videos on your mobile devices.
Features:
2.4GHz USB digital wireless system

Ideal for broadcasting, live streaming, presentations and more

Plug-and-play operation with Mac and Windows

Works with iPad via Apple's Lightning to USB Camera Adapter or iPad Camera Connection Kit (30-pin)

Wirelesss receiver built into USB stick

Beltpack transmitter with

Samson

DE5 Micro Sweat-Resistant Headset Microphone

Transmitter offers 20 hours of battery life using two AA batteries (batteries not included)

100' operating range (environment dependent)

1-touch Mute function, adjustable Volume controls on transmitter

Compatible with

Samson

Expedition Series Portable PAs that feature USB Wireless ports
Click here to see the Compatible Samson Expedition XP106 Portable PA Systems
Find Similar Products by Category
Customers also viewed