Categories
Categories
BRANDS
BRANDS
Fast & Easy
One-Page Checkout!

6 Easy Ways to Pay
Credit Cards
PayPal
PayPal Credit
AmazonPay
GPay by Google
ApplePay

Mindy Sez!
Mindy M. - National Customer Service Manager

Supreme Audio is feeling mischievous!
Yup! Im lookin' for some interaction!
How many headset mics do you see?
Please email your answer!

This is a common site in our service department... how much money do you think this pile is worth?

Taking your time when packing equipment for service could be the difference between a warranty repair and a non-warranty repair. Damaged equipment, due to insufficient packing, is not covered by the shipping company, nor is it considered a warranty repair. The bottom line? Take your time.... and save money!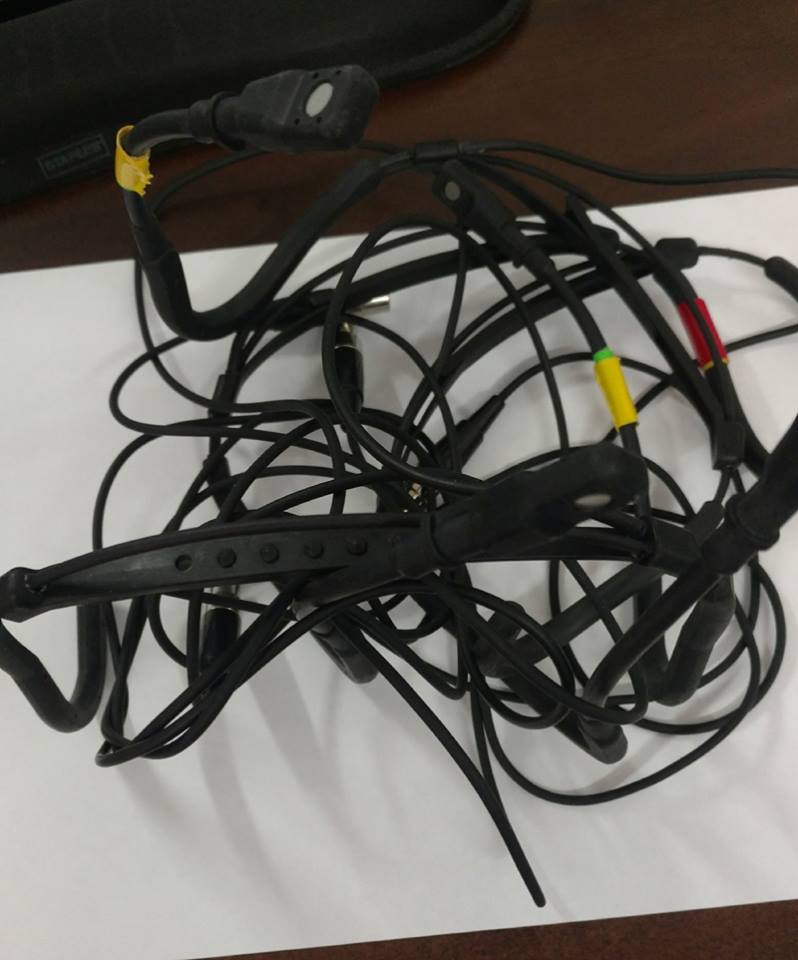 Preferred Vendor to
Les Mills Virtual™
Wexer Virtual™
UFC Gym™
Crunch™
Gold's Gym™
Powerhouse Gym™
World Gym™
Samson SM4 4-Channel Fitness Mixer
Samson SM4 4-Channel Fitness Mixer
Samson SM4 4-Channel Fitness Mixer
List Price:
$279.99
Our Price:

$179.99
(You save

$100.00

)
Product Description
Samson SM4 4-Channel Fitness Mixer:

Samson's SM4 is a half-rack, 4-channel line mixer designed to easily integrate into any installation or commercial sound system. Perfect for fitness clubs, gyms, restaurants, night clubs and schools, the SM4 features a balanced microphone channel with 2-band EQ, voiceover priority ducking, stereo line level inputs, as well as Bluetooth® and Samson Stage XPD wireless connectivity.
FEATURES:
The SM4 allows you to mix up to four channels of crystal clear audio. The mixer's studio-grade Mic channel features a 2-band EQ (Bass and Treble) to adjust the mic's tone without affecting the music. The Music channel includes rear panel RCA inputs, as well as front-mounted stereo 1/4" and 1/8" inputs for easily connecting mobile devices. Bluetooth connectivity lets you wirelessly stream music, while a USB port allows you to integrate an optional Samson Stage XPD Series wireless system.
Voice Priority:
Whether you're leading a group exercise) class or making announcements at a restaurant, intelligibility is key. The Voiceover feature enables you to lower the music (up to 30dB of ducking) while talking through a mic or using the XPD Wireless input. The Voiceover Threshold knob lets you adjusts the active ducking hold time from 0.5–3 seconds.
Installed Sound:
For fixed installations, the SM4 can be installed using the included rackmount kit. It can be mounted side by side with a Samson CR88, CR288 or CR99 wireless receiver. The mixer's rear-mounted Master Volume control allows you to set the overall output level of the mixer, and stopping users from playing the system too loud and destroying your speakers. It also features stereo XLR and RCA outputs, and a Mono/Stereo switch for use with a mono sound system.
SPECIFICATIONS:
Frequency Response......................... 30Hz–30kHz (Mic to Main)
T.H.D................................................. <0.02% (Mic/Line & Line to Main)
Maximum Input Level....................... -18dB @ 1kHz (Mic Input)
Maximum Output Level..................... +14dB
Input Channel EQ.............................. High: ±12dB @ 12kHz
Low: ±10dB @ 80Hz
Bluetooth.......................................... V4.0, A2DP V1.2
Connectors....................................... Balanced XLR-1/4" combo input (Mic)
Stereo RCA, 1/4" and 1/8" inputs (Music)
USB input (XPD Wireless/Mic/Phone Chrg)
Stereo RCA and balanced XLR outputs
Phantom Power................................. 15V
USB Bus Power................................. +5V DC 0.2A max
Power Requirement........................... DC15V 800mA
Construction..................................... Half-rack, steel chassis
Accessories...................................... Rackmount kit, power adapter
Product Dimensions.......................... 1.75" x 8.75" x 5.5"
Product Weight................................. 1.76lb (0.8kg)
Box Dimensions................................ 2.25" x 11.5" x 9.75"


Find Similar Products by Category
Customers also viewed